Learn Russian with FreeTranslation.com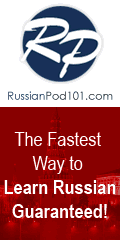 FreeTranslation.com have teamed up with the world's leading providers of Learning Russian Courses. From Russian Learning books, videos, Audio CDs, DVDs and Learning Russian Online, you can find a course that makes it quick and easy to help you learn to speak Russian.
Learn Russian in the comfort of your own home with these great courses from experts in learning Russian. Many language courses also provide free lessons to help you learn Russian for free. Join thousands of people who have already benefitted from learning to speak Russian.
Select your course here and start Learning Russian today!